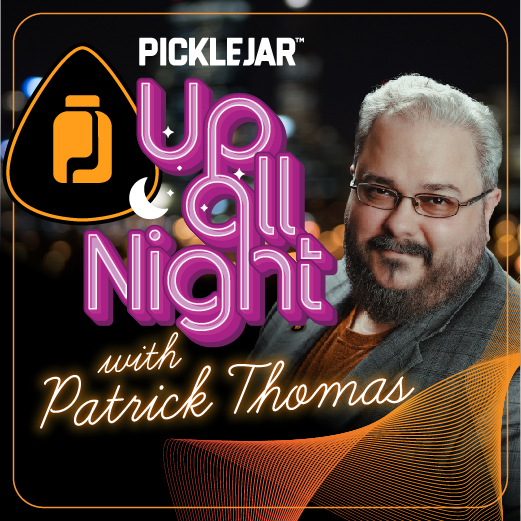 PickleJar Up All Night with Patrick Thomas
"WHY YOU UP ALL NIGHT?!?" PickleJar brings back live radio and you never know what to expect every time Patrick answers a call or cracks the mic. All night long people are working (and playing) and Patrick keeps them company because they "ain't goin' down, til the sun comes up!"

It's a genuine cast of characters, like Big Bird from Dallas drinking by his pool, G-man from Macon hauling chicken feed, your favorite country star calling from the tour bus after an electric night on stage, or the stars of tomorrow who are highlighted each hour as part of the PickleJar Artist Spotlight. Tune in at midnight, seven days a week to see why America is UP ALL NIGHT!
ABOUT PATRICK THOMAS
Patrick Thomas has worked in radio since he was 16. Combining a passion for music with a gift for storytelling, he has earned a CMA Award and two ACM Awards for National Radio Personality of the Year as part of one of the largest and most successful country radio shows of all time.
Patrick began working with Big D and Bubba as executive producer and on-air cast member in 1999 while still a student at LSU. The show entered national syndication later that year and relocated to Nashville in 2003.
After leaving Premiere in 2014, Patrick served as President of Silverfish Media, the company that programs and produces The Big D and Bubba Show. He oversaw the operation of five nationally syndicated radio shows, including Honky Tonkin' with Tracy Lawrence, which he also co-hosts and produces.
Patrick is a songwriter and an ASCAP member who once dreamt of being the next Billy Corgan, but now would rather write a song with Dean Dillon. He started doing stand-up comedy just for fun, eventually working as an opening act in clubs and theaters. He is also on the Leadership Team of Troubadour, the Country Music Hall of Fame and Museum's young professionals' group.
After nearly 24 years with Big D and Bubba, Patrick couldn't pass up the chance to do his own national radio show…